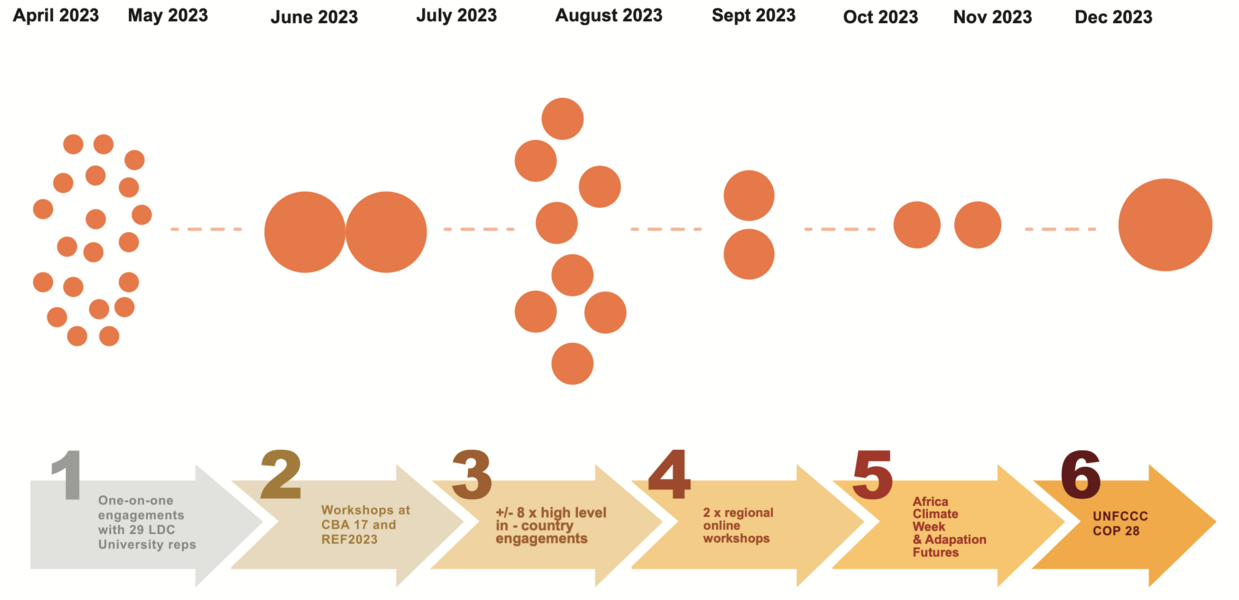 The Adaptation Research Alliance (ARA) is co-creating a new adaptation research programme that will build capacity in Least Developed Country (LDC) universities to support national adaptation efforts.
Interfer, a social enterprise focused on positive co-disruption, is working with the ARA to facilitate the co-creation of this new adaptation research programme, to be led by LDC universities.
Process of engagement
This co-creation process is guided by an Advisory Committee made up of researchers, multilateral organisations and government officials from LDCs who meet prior to key engagements.
Initial key engagements included speaking to 20 individuals connected with LDC universities and running conference sessions and post-conference workshops at 17th International Conference on Community-Based Adaptation to Climate Change (CBA17) and the Resilience Evidence Forum (REF2023).
The following steps involve hosting online workshops related to the feasibility of different solutions to the multiple barriers that hinder local research uptake in policy and decision making processes. Focus at the workshops is especially given to getting the perspectives of government (local and national).
After the completion of the workshops, concept notes will be developed for the new research programme. These will be taken to Africa Climate Week in Nairobi in September 2023 and Adaptation Futures in Canada in October 2023, to further refine with government officials and international researchers.
Call for participants
We are now calling on those wanting to influence the design of a new action-oriented adaptation research programme for Least Developed Countries (LDCs) to join an online workshop. We would especially like to encourage participation from national government, local government, funders, multilateral organisations and civil society leaders in LDCs. Details of the workshop are available here.
The purpose of this workshop is to explore how high-level stakeholders in LDCs see their role in action-oriented adaptation research, and in the solutions identified through the co-creation process so far. Those interested are invited to register for the workshop here.
Related
Interim findings from the ARA Co-creation Space
Read the mid-point findings from the ARA Co-creation Space to enable Least Developed Country (LDC) universities to contribute to and support national adaptation action.