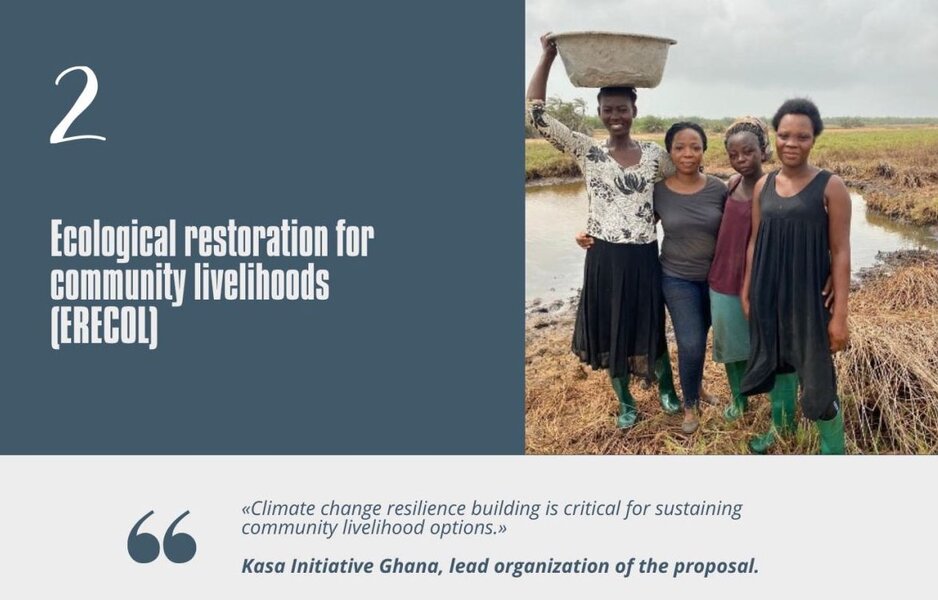 The Building Approaches to fund local Solutions with climate Evidence (BASE) initiative, driven by ARA Member and partner Fundación Avina, has selected eight proposals to receive grants to implement climate solutions.
The projects propose solutions that will advance the transformation of their territories while generating evidence of how the intervention contributes to climate mitigation and/or adaptation.
"BASE aims to unlock the potential of communities to drive impactful initiatives and promote effective climate action at the grassroots level," says Victoria Matusevich, Head of Secretariat of the BASE Initiative at Fundación Avina.
"With these grants, we support eight locally led projects and their contribution to refining the climate rationale, furthering our understanding of effective, community-led climate action."
Each of the initiatives will receive a total funding of USD 40,000 for up to 12 months. This will be supplemented by an additional USD 10,000 for the hiring of a researcher to support implementation of the grant.
Read details of the eight awarded projects here.
ARA Micro-grantee recognised
Among the awarded projects is "Ecological Restoration for Community Livelihoods (Erecol)," led by 2022 ARA Grassroots Adaptation Research Micro-grant awardee Kasa Initiative Ghana.
Together with Keta Ramsar Centre NGO, the project aims to improve resilience of the Keta Lagoon Complex Ramsar site to the effects of climate change. Their main focus is the restoration of 2.5 hectares of degraded mangrove forest using Nature-based Solutions (NbS) and raising awareness within the community of the importance of mangroves and ecosystem services in provisioning for local livelihoods.
The work builds on research Kasa Initiative Ghana carried out with the ARA's 2022 Grassroots Action Research Micro-grant. That work investigated local adaptation strategies from southeastern Ghana which faced impacts from climate change including coastal erosion and sea level rise.
"The findings we arrived at through that research pointed to the fact that mangrove vegetation in the area was a critical resource directly or indirectly linked to the sustainability of the different livelihood groups in the communities," says Jonathan Gokah, coordinator at Kasa Initiative Ghana.
"Mangroves, apart from their high carbon sequestration potential, are also a source of livelihood to the people. Hence the need to look for funding like the BASE grant towards supporting the communities to increase resilience for ecological and livelihood security benefits."
Flexible climate proposals
The BASE grants are designed as an innovative approach to funding, and enabled more than 70 applicants to articulate the climate rationale of their proposals flexibly. This process ensured the inclusion of diverse voices and accommodated creative expressions.
Throughout the application process, BASE provided support to help applicants navigate the intricacies of climate finance and project development.
The selection process was undertaken in collaboration with BASE's partners, including Brainforest, Forest Trends, GFLAC, Hivos, Pawanka Fund, Reos Partners, Skoll Foundation, United Nations University- ViE, and its aligned initiatives, Adaptation Research Alliance, Voices for Climate Action, and Impulsouth.
"Work linking research, action and innovative funding models are key ingredients in generating effective solutions to the impacts of climate change," says ARA Head of Secretariat Jesse DeMaria-Kinney.
"The ARA is proud to support the BASE Initiative in putting forward new ways of working that ensure communities at the frontline of climate change are able to access funding that can help generate those solutions."
Unlocking climate finance
The ARA is in formal partnership with BASE, an initiative driven by ARA member Fundación Avina. The two engaged collectively in a Consultative Process on financing climate resilience at the local level.
That work provides valuable feedback for the design of grants, ensuring that they are effective at meeting local needs and in building a better understanding of climate risks. It contributes to BASE's greater vision of unlocking one of the main challenges that keep local communities from accessing climate finance: the development of a climate rationale of the proposals.
"Our grant schemes will generate a proof of concept of how a climate rationale can be simplified and will contribute to evidence on impact that can be shared with public and private financing institutions and governments to instigate changes in climate finance practices focused on local communities," says Matusevich.
BASE will introduce a series of grant schemes following this inaugural round. The goal is to fund locally led climate solutions while minimising the cost and time required to gather or prepare the relevant information that substantiates a climate rationale.
Join the ARA
Want to join our global coalition? Learn about the benefits of ARA membership and whether your entity or organisation is eligible.