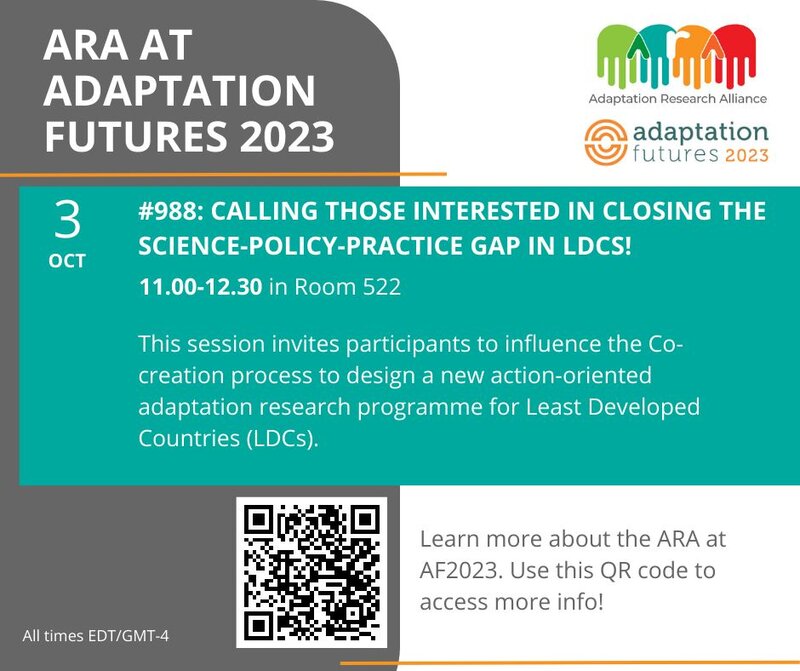 How would you influence the priorities of a new action-oriented adaptation research programme?
This session provides an opportunity for Adaptation Futures conference delegates to influence the design of a new action-oriented adaptation research programme for Least Developed Countries (LDCs).
The Adaptation Research Alliance (ARA) is supporting the co-creation of a new programme to enable LDC researchers to contribute to and support their country's national adaptation priorities with context appropriate transdisciplinary knowledge. This programme could support locally-led adaptation, the development and implementation of National Adaptation Plans, or anything in between: it is up to the participants in the co-creation process to share their perspectives of what is needed. This co-creation process is being facilitated by a social enterprise called Interfer.
In this session, Interfer will share findings from the process to date. So far, this Co-creation process has involved engagement with representatives from LDC universities, governments, and multilateral agencies through interviews, conference sessions, in-country events, and online workshops. We have surfaced the barriers to getting local research into policy and practice in LDCs and considered many innovative solutions to overcome these barriers.
Now, we would like to add your voice to this global conversation.
The proposed session has three main components:
A presentation outlining the ARA co-creation spaces, our process, and findings to date.
A set of exemplary examples of innovative solutions to the science-policy-practice gap in LDCs to provide context.
A round table discussion to gather your inputs: What have we missed? What are your experiences and ideas around what has worked in LDCs? What would you like to see in the programme? What kind of funding and support could facilitate the proposed solutions?
We anticipate the key outcome from this session is a broader range of perspectives (particularly seeking funder and programme coordinator perspectives) on what this new programme should look like.
Date: Tuesday 3 October
Time: 11.00-12.30 GMT+4
Speakers: Sheona Shackleton (African Climate & Development Initiative (ACDI), Lucy O'Keeffe
Partners: Interfer
Location: Room 522
Tag: Governance & Finance
Join the ARA
Want to join our global coalition? Learn about the benefits of ARA membership and whether your entity or organisation is eligible.