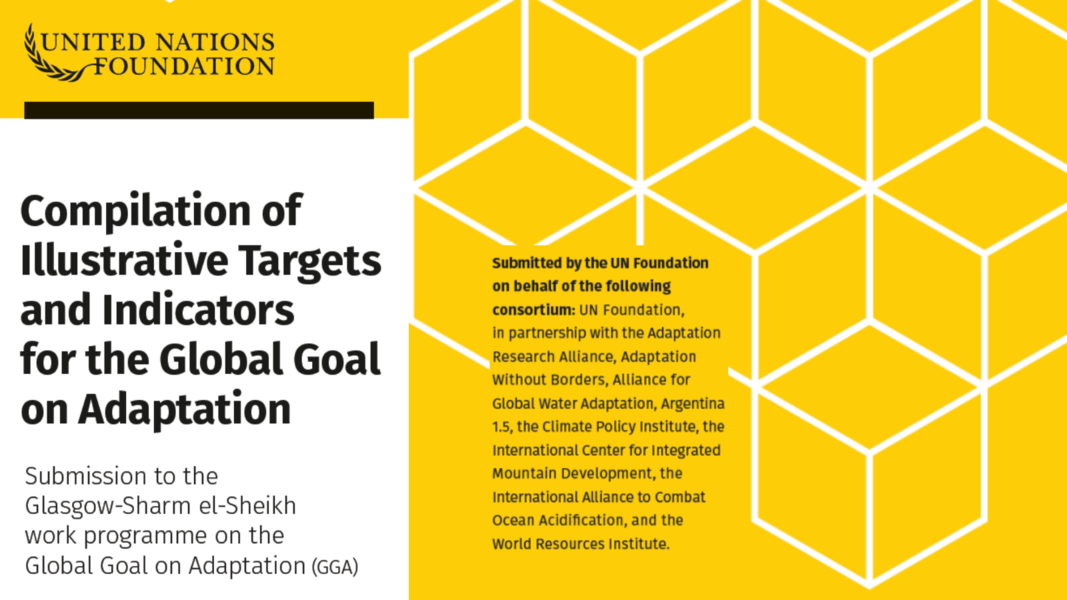 One of the objectives of the Glasgow Sharm el-Sheikh work programme (GlaSS) is to "enhance understanding of the global goal on adaptation, including of the methodologies, indicators, data and metrics, needs and support needed for assessing progress towards it" (Decision 7/CMA.3 Article 7b).
The sixth GlaSS workshop (June 4 and 5, 2023 in Bonn, Germany) is to focus on: "Zooming in: Target-setting, metrics, methodologies and indicators for the GGA as well as steps of an iterative adaptation cycle and means of implementation."
To support that process, the UN Foundation, in partnership with the Adaptation Research Alliance (ARA), Adaptation Without Borders, Alliance for Global Water Adaptation, Argentina 1.5, the Climate Policy Institute, the International Center for Integrated Mountain Development, the International Alliance to Combat Ocean Acidification and the World Resources Institute have made a compilation of indicative targets and indicators from selected existing international agreements.
The list of sources compiled include six international agreements highlighting internationally agreed indicators, and 19 documents from global or regional initiatives and institutions (see point 4 below for the full list). It also included all of the indicators suggested through the GlaSS process through submissions, targets and indicators used by Climate Funds and Multilateral Institutions, as well as proposed indicators where there are gaps in coverage.
Illustration of indicators
This document is an illustrative compilation of indicators and targets that can be considered relevant to the GGA. This document is intended to support negotiators in making choices about the structure of the framework, the potential targets and indicators that could be included, and the potential development of new targets and indicators where needed.
This document is not intended as a suggestion of what the final GGA framework should look like, nor does it suggest that the GGA requires an extensive list of globally agreed targets and indicators a long list of indicators, but rather aims to highlight potential overlaps and synergies with other international frameworks.
View the document on the UNFCCC website here.
GGA: Illustrative targets and indicators
This compilation of illustrative targets and indicators for the Global Goal on Adaptation (GGA) was submitted by the UN Foundation on behalf of a consortium that included the ARA.