The Adaptation Research for Impact Principles enable action-oriented adaptation research that is driven by user needs, co-produced with local experts, and equitable in practice.
The Principles are aimed at supporting and influencing the activities, plans, programmes and policies of Adaptation Research Alliance (ARA) members in particular – as well as the broader community of practice working on adaptation action and research in general.
What are the Principles
The Principles are a set of six guidelines aimed at galvanising action to overcome a set of hurdles that currently impede the potential of action-oriented research for supporting vulnerable communities across the world adapt to a changing climate.
These are six principles which address: the purpose of research, the research process itself, the value and benefits of research and the linkages between research and action.
Research is needs-driven, solutions-oriented and leads to a positive impact on the lives of those at risk from climate change (who or what is the research for?)
Research is transdisciplinary and co-produced with users (how should research be carried out?)
Research emphasises societal impact (how is research valued)
Research builds capacity and empowers actors for the long-term (what can research enable?)
Research processes address structural inequalities that lead to increased vulnerability and reduced adaptive capacity of those at risk (how can research address root causes of risk?)
Learning-while-doing enables adaptation action to be evidence-based and increasingly effective (How can research=action links be strengthened?)
How the Principles were developed
As a disparate group of organisations spread across almost 50 countries on 6 continents, the Principles ensure all members abide by a common set of values and works towards shared goals
Aligning with the ARA's collective vision of change, the Adaptation Research for Impact Principles were developed and endorsed by members.
The initial draft of the principles was formulated and agreed upon at the Gobeshona Conference in 2021 by a group of 33 organisations (donors, multilateral institutions, bilateral agencies, research institutes and NGOs) that came together to formally commit to launching the ARA at the conference.
Related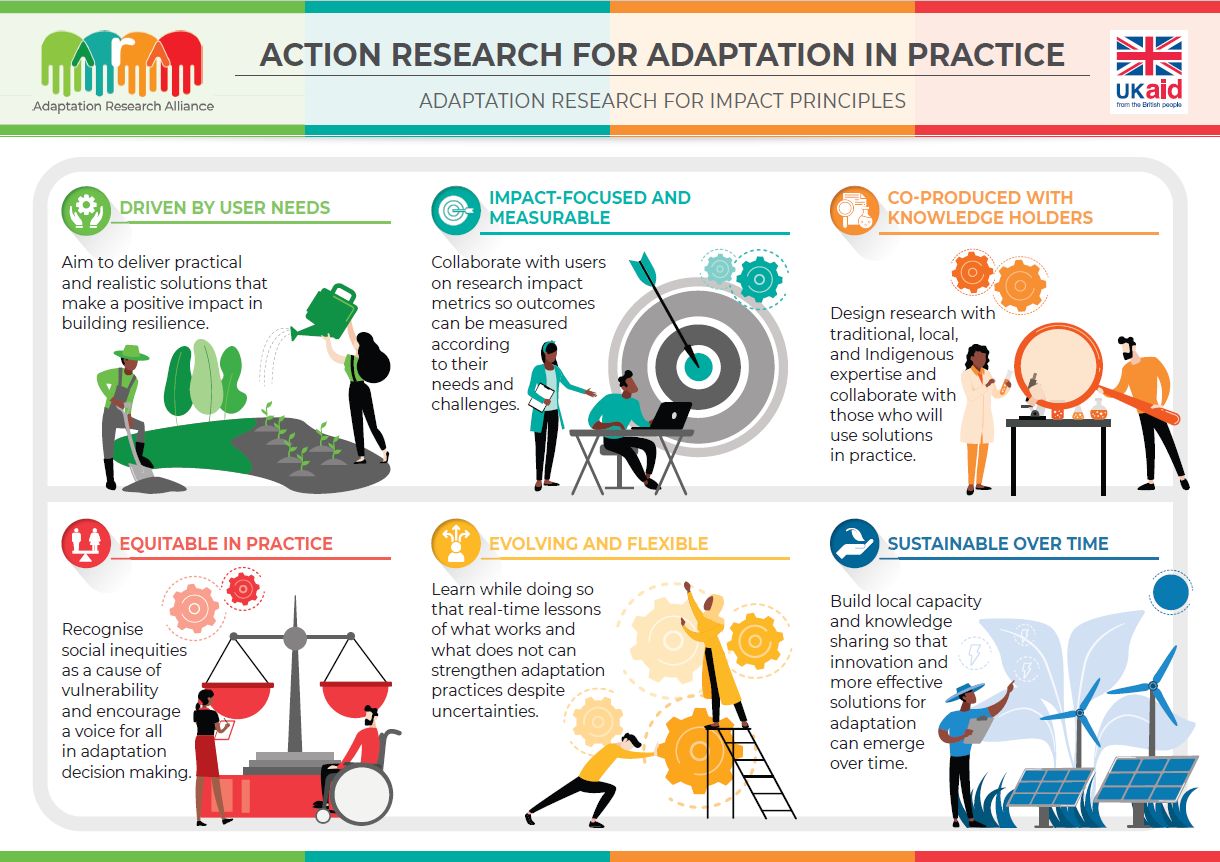 The Adaptation Research for Impact Principles
Learn how our members and the broader adaptation community can benefit from the Principles.