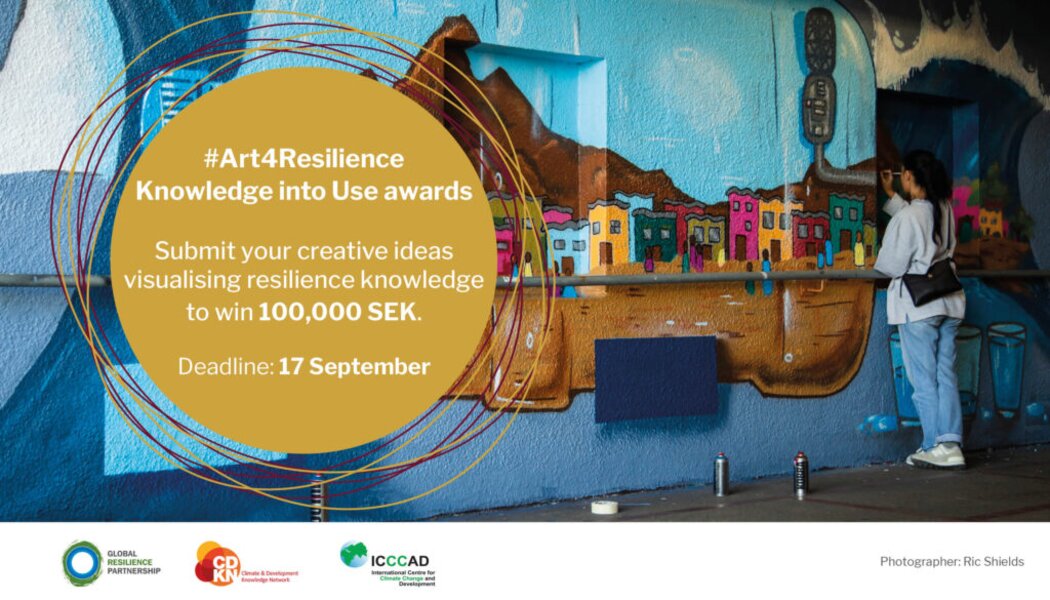 GRP calls upon individuals and organisations to tap into their artistic potential, merge it with sound evidence, and identify or document innovative approaches to resilience evidence. We are looking for art and creative works to visualise knowledge and evidence. Prizes of 100,000 Swedish Krona will be awarded to the winners across three categories: performing arts (theatre, music, improv, music and folk performances, etc.), visualising evidence (art installations, graphics, animations, chronicling recipes and cuisines that are climate resilient, etc.), and participatory approaches connecting arts and science (citizen science, participatory arts, gamification, etc.).
How to apply
To apply, please submit:
A written concept note to describe the evidence behind the art and the art approach/method you will use. The concept note/ idea should be a 250-word brief on the evidence generated or being documented on enhancing resilience. For instance, mangroves have the potential to act as resilient natural infrastructure to manage storm surges and support community livelihoods. If this knowledge is depicted through an entertaining comic strip or a game to spot existing mangrove patches and their species, then those could be contenders for the award
Pictures or videos of existing prototypes, if any, are welcome.
Eligibility criteria
The entries should be from registered organisations only.
If individual artists, science communicators or knowledge brokers want to apply, they can partner with registered organisations. The grant contract can only be awarded to a registered organisation.
Organisations and candidates based in the Global South and youth-led organisations are strongly encouraged to apply.
Countries ineligible to apply are: Russia, Belarus, Cuba, Afghanistan, Somalia, Syria, Iran and North Korea.
Submission and deadlines
Submit the concept note and the creative piece that adheres to the instructions above in this google form by 17 September 2023.
Please see here for more details on the #Art4Resilience Knowledge Into Use awards.
Join the ARA
Want to join our global coalition? Learn about the benefits of ARA membership and whether your entity or organisation is eligible.