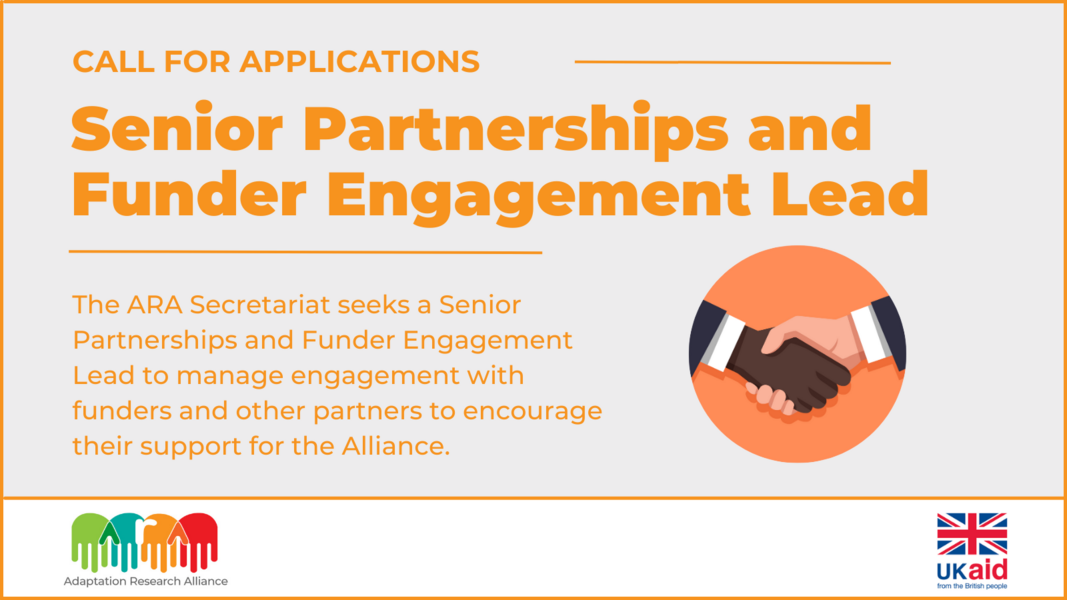 The ARA Secretariat seeks a Senior Partnerships and Funder Engagement Lead to manage engagement with funders (bilateral, philanthropic and private sector) and other strategic partners to encourage their support for the ARA and secure ambitious resourcing commitments for both the ARA and action research programmes.
The candidate will also lead on engagement with partner organisations and initiatives to develop and deliver programmes advancing the ARA's mission. This will involve coordinating with all necessary stakeholders, including the ARA co-chairs and Steering Board.
Candidates should be based in the Global South.
Roles and responsibilities
Develop and deliver a funding strategy that looks to mobilise resources from bilateral, philanthropic and private sector actors for adaptation research that is action-oriented and update ARA targets annually.
Hold relationships with multiple high-level contacts, in particular from international and national funders of development and research, with the aim of encouraging their support for ARA developed activities and core ARA Secretariat costs.
Ongoing engagement with key partners and affiliated programmes to ensure that opportunities for deeper collaboration are harnessed and to maximize collective impact and realizing ARA mission and theory of change. Flag opportunities for further involvement and co-financing.
Track status of funding and partnerships discussions or meetings and manage delivery of follow up actions to ensure that steady progress is made.
Convene funders' roundtable at least twice a year (in person and virtual) with support of the ARA Secretariat team. Facilitate the roundtable and prepare substantively for the sessions.
Oversee generation of evidence establishing the value of action research and the Adaptation Research for Impact Principles and ensure that it is delivered to relevant policy audiences.
This position will report to the Head of the ARA Secretariat.
Application process
To apply, please complete the following application form where you include at least one of the following:
Example of working in a working multi-stakeholder environment
Example of working in a fast-paced policy environment
A writing sample (e.g. policy brief or advocacy piece
Applications will remain open until a candidate has been selected. Read full details of the role and application process in this Terms of Reference (ToR).
Senior Partnerships and Funder Engagement Lead
Learn about the role for Senior Partnerships and Funder Engagement Lead with the ARA Secretariat in this Terms of Reference (ToR) document.