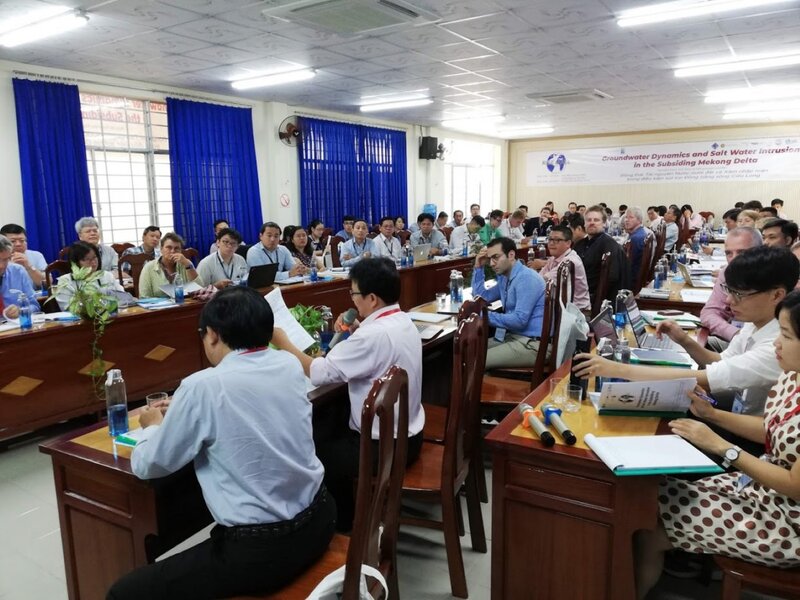 Climate change is impacting communities across the world.
These impacts include the increasing frequency and intensity of both rapid-onset climate shocks such as hurricanes and floods alongside slow-onset climate stressors such as salt-water intrusion, sea-level rise, and drought.
Non-climatic activities such as rapid urbanisation and the over-exploitation of natural resource use can often exacerbate these issues.
For decades, scientists and researchers have studied these issues - trying to better understand the trends, processes, and risks around these challenges. Part of this is, for example, carrying out climate risk assessments (CRAs).
CRAs help stakeholders to better understand potential risk scenarios, such as the location, severity, and frequency of a climate hazard. They also aid in identifying the likelihood that different hazards will occur, the impact a particular hazard might have, and the vulnerability of people affected by these hazards. CRAs can be an essential tool to help decision makers increase their understanding of climate change risks that their country and communities face.
This type of information, as with other scientific research conducted by experts, can help decision makers better understand the action and support required to tackle different climate and environmental issues and optimise the resources needed to respond to different hazards.
This information can also help decision makers integrate climate and environment trends, processes, and risks into development and risk-management plans in order to make informed decisions that build the long-term resilience of local communities.
For example, Myanmar and Lao PDR both face risks from multiple hazards such as floods and landslides, and both countries are vulnerable to the impacts of climate change.
Because climate change can impact the timing, severity, and trends of these hazards, disaster risk reduction plans within these countries must account for climate change by integrating climate-specific projections into their risk assessments.
In Vietnam, land subsidence and saltwater intrusion have posed as major risk factors for the long-term sustainability of the Mekong Delta. Better understanding these trends, their causes and their impacts can help inform development plans in the Mekong region.
Of course, if scientists and experts operate within a vacuum, then the critical information that is garnered from research may not enter decision-making processes. For this reason, systematic engagement between experts and decision-makers is critical.
This engagement can not only ensure that knowledge around these topics is increased and able to inform decision-making processes, but it also helps build the capacity of local practitioners and decision-makers by giving them the skills, tools and knowledge necessary to respond to climate and environmental risks in the future.
Build capacity of decision makers
The Institute for Global Environmental Strategies (IGES) undertook a project on integrating climate change projections into flood and landslide risk assessments at the river basin level in Lao PDR and Myanmar.
This project saw members of IGES working with government departments in disaster management, roads and infrastructure, forestry, water and agricultural to demonstrate the integration of climate change projections in flood and landslide risk assessments, enhance technical capacities of government officials and national institutions, and enhance dialogue among local, national and regional stakeholders on integrating climate change adaptation policies and plans.
The project utilised a consultative approach throughout the design and implementation phases. National and sub-national-level government officials were involved in training programmes and in the subsequent implementation of activities such as data collection, ground-truthing and participatory rural appraisal techniques.
The project resulted in the creation of risk assessment maps that provided information that helped inform decisions around infrastructure, such as the strengthening of roads to landslides, and development work like the promoting the diversity in livelihoods to deal with flood impacts.
Importantly, rather than simply disseminating the information garnered by these maps in, for example, a one-off workshop, IGES focussed on building the capacity of local decision-makers.
By systematically engaging with local officials throughout the lifespan of the project, in both design and implementation, IGES could ensure that the maps were not only owned by local officials but that local officials had the knowledge and skills required to replicate the mapping process, thus empowering them to generate future solutions.
Engage in joint research
In Vietnam, engagement between experts and decision-makers was able to fill an existing knowledge gap around ensuring the long-term sustainability of the Mekong Delta on which countless communities rely.
Although land subsidence and saltwater intrusion in the Mekong Delta were a growing concern among government officials, there was a lack of detailed knowledge on the topic.
The Dutch Research Council's project "Rise and Fall: awareness of land subsidence in the Mekong delta" took a collaborative approach that brought together external experts and Vietnamese partners to conduct joint research around these Mekong Delta issues in hopes to better understand and quantify land subsidence and saltwater inflow and thus contribute to developing sustainable strategies for groundwater extraction and management.
This resulted in the development of the Integrated Delta Model (IDM).
Ensuring that this information did not exist in a vacuum, but was rather utilised to inform decision-making processes, the important information garnered from the IDM was relayed to policymakers, forming the basis of discussions around development plans.
Thus, the IDM acted as an important tool for local and regional decision-makers to increase their knowledge on this topic and develop adequate water management strategies based on development scenarios.
Adopt an integrated approach
Research holds a lot of power to inform climate-resilient development. However, this works best when the results of this research are readily available to be used in decision-making processes and when research processes themselves have built the capacity of local actors for the long-term.
Armed with the right tools, skills and information that has been garnered through a collaborative and integrated approach, decision-makers can make risk-informed development decisions in the short, medium, and long-term.
Join the ARA
Want to join our global coalition? Learn about the benefits of ARA membership and whether your entity or organisation is eligible.