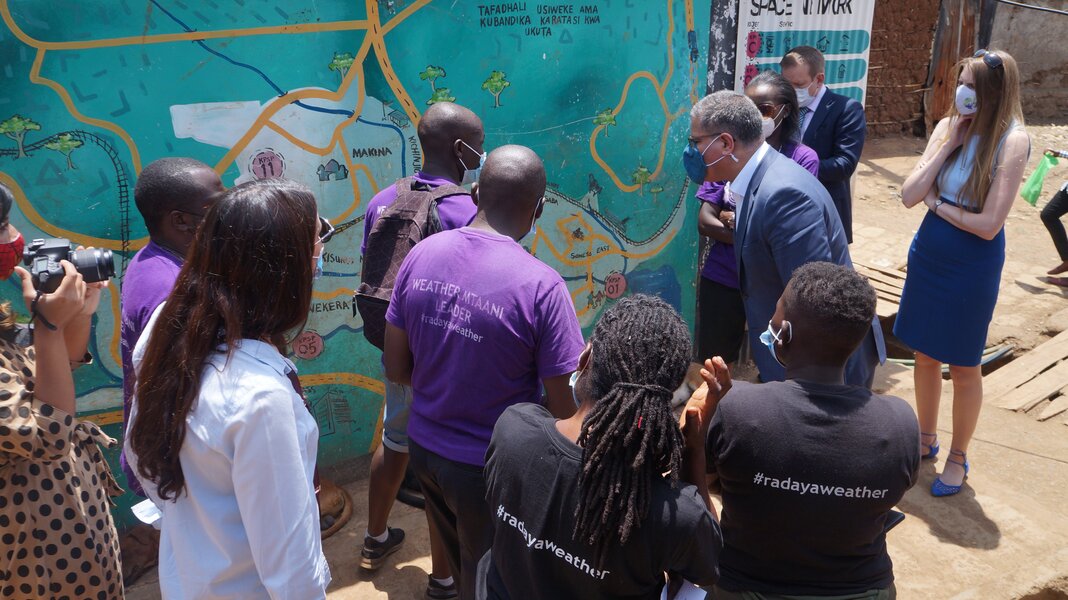 Across the globe, communities are facing the impacts of climate change first-hand.
These impacts - which affect lives, livelihoods, health, and well-being, as well as economic, social, and cultural assets, infrastructure, and the provision of services - can manifest themselves in a number of ways and at different points in time.
Decision makers must support at-risk communities to adapt and build resilience to climate change. This means decision makers must make risk-informed development decisions and decide on measures that will help communities manage these risks.
In an urban context, for example, this might include decisions around resource management, urban planning, and the improvement of weather and climate information services.
A critical component in informing this type of decision-making is research around climate processes, trends, and risks. However, cities and communities have unique socio-economic, governance and physical characteristics that impact their sensitivity to the effects of climate change.
Top-down, siloed approaches that do not consider a variety of priorities and perspectives and the local context can result in risk management decisions that are ineffective, exacerbate inequality, and limit the long-term sustainability of interventions.
Decision-making processes, as well as research agendas, should be set through open and inclusive processes that reflect a variety of stakeholder contexts, needs, perspectives and interests. This means that before any conclusions can be drawn around risk-management decisions such as early warning systems and urban development planning, it is vital that decision makers and researchers engage thoroughly with a variety of stakeholders.
This increases the understanding of climate-related sensitivities within particulars contexts, helps integrate the views and perspectives of a variety of stakeholders in the decision-making process, and ensures that interventions are designed to effectively meet the priorities and needs of affected communities.
Understanding context
The Future Resilience for African Cities and Lands (FRACTAL) project, an initiative that aimed to increase understanding of climate-related sensitivities of Southern African cities, demonstrates the value of stakeholder-wide integration and engagement.
Researchers from various disciplines across Botswana, Malawi, Mozambique, Namibia, South Africa, Zambia, Zimbabwe, Europe, and the US worked alongside non-academic actors within cities to co-produce knowledge for responding to contextual needs.
FRACTAL aimed to advance scientific knowledge about regional climate responses to human activities, and to co-produce relevant knowledge that supported resilient development pathways. These outcomes enabled decision makers to better integrate pertinent climate knowledge into their resource management decisions and urban development planning.
The work involved unpacking city-specific contexts and understanding: the urban climate change risks and impacts in specific contexts, the decision-making space in the FRACTAL cities, and the physical climate processes to develop robust and scale-relevant climate information.
In this project, learning labs were organised and facilitated by transdisciplinary teams. Encompassing more than 80 institutions, these teams included academics from local universities, international academics, boundary agents like the Red Cross Red Crescent Climate Centre (RCRCCC), NGOs, civil society organisations, and representatives from local municipalities.
Engaging such a variety of actors in transdisciplinary learning processes enabled the identification of priority risks, collaborative exploration of risks from multiple perspectives, and consideration of contextually appropriate responses.
Identifying user needs
There is always the possibility of adaptation and climate risk management projects being decoupled from the needs of end users. However, adaptation to climate change is most effective, sustainable, and equitable when it is driven by the needs of users, especially those most vulnerable to the effects of climate change.
This means ensuring solutions are making a positive impact on the lives of vulnerable communities and ameliorating both current and future climate risks, an approach that is exemplified in the Developing Risk Awareness through Joint Action (DARAJA) project.
DARAJA was a multi-stakeholder partnership that aimed to improve weather and climate information services in Kenya and Tanzania by providing early warnings of extreme weather events to informal urban residents.
DARAJA used a system-wide approach to developing and implementing solutions, convening multiple stakeholders including vulnerable urban residents, national weather agencies, civil protection and disaster management agencies, infrastructure operators, media houses, and telecommunication companies.
DARAJA recruited a cadre of community-based volunteers that organised iterative rounds of group discussions with vulnerable communities to understand what information they need to better adapt to climate change and how this information could be communicated. The findings were then shared with meteorologists, climate scientists and radio presenters to ensure that a supportive ecosystem for decision-friendly climate information was brought to life to support the most vulnerable.
The work led to the conversion of dense meteorological data into daily, graphic-driven forecasts and snappy radio messages that were socialised by community volunteers and made a significant, positive impact on the ability of vulnerable communities to make decisions that helped them better adapt to climate change.
Co-define issues and responses
Top-down decision-making approaches that come up with one-size-fits-all solutions based on universal assumptions are often ineffective and potentially maladaptive.
Evidence from the FRACTAL and DARAJA projects show that early warning systems can be improved by understanding where, how, and why these systems might have failed by engaging with communities who utilise these systems.
Ensuring climate-resilient risk-informed urban planning means bringing together a variety of knowledge types and stakeholders to co-define city-specific issues and co-create locally relevant responses.
Through a collaborative exploration of risks, issues, and solutions. Decision-makers can work alongside cities and communities to tackle the impacts of climate change.
Join the ARA
Want to join our global coalition? Learn about the benefits of ARA membership and whether your entity or organisation is eligible.