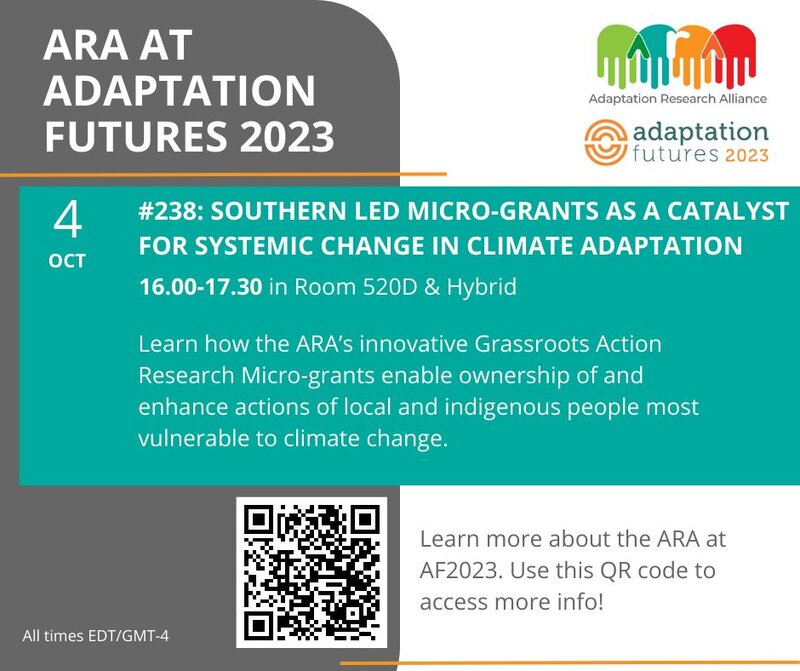 Only 10% of climate finance committed from international funds was prioritised for local level in 2016 (Soanes,.M 2017). This speaks to the power dynamics and hierarchies which prevent adaptation being shaped by and taking place at the local level.
Through listening to the voices and experiences of the ARA's Grassroots Action Research Micro-grantees (small grants given to 60 local organisations based in the global south for undertaking action and research on adaptation). This session will showcase how the micro-grants act as a tool to enable ownership by, and as a result concentrate actions on local and indigenous people most vulnerable to climate change in the following ways:
Converging multiple knowledge types and sectoral stakeholders.
Eliciting innovations around local climate action.
Identifying new opportunities for building the knowledge base from a grassroots perspective or influencing a solution.
In addition to listening to the experiences of grantees themselves, this session will include a technical expert on Locally Lead Adaptation (LLA) who will frame the discussion in the wider context of LLA, to convey the importance of this kind of funding model for enabling the necessary transformation needed for communities to adapt to Climate Change.
Date: Wednesday 4 October
Time: 16.00-17.30 EDT/GMT-4
Speakers: Sydney Church (ARA, moderator), Aditya Bahadur (ARA/IIED, speaker), Anshuman Karol (Participatory Research in Asia (PRIA)), Maria Del Pilar Bueno (Universidad Nacional De Rosario), Jonathan Gokah (KASA Initiative Ghana)
Partners: International Institute for Environment and Development (IIED), PRIA, Universidad Nacional De Rosario, KASA Initiative Ghana
Location: Room 520D
Hybrid link: TBC
Tag: Indigenous Knowledge
Join the ARA
Want to join our global coalition? Learn about the benefits of ARA membership and whether your entity or organisation is eligible.