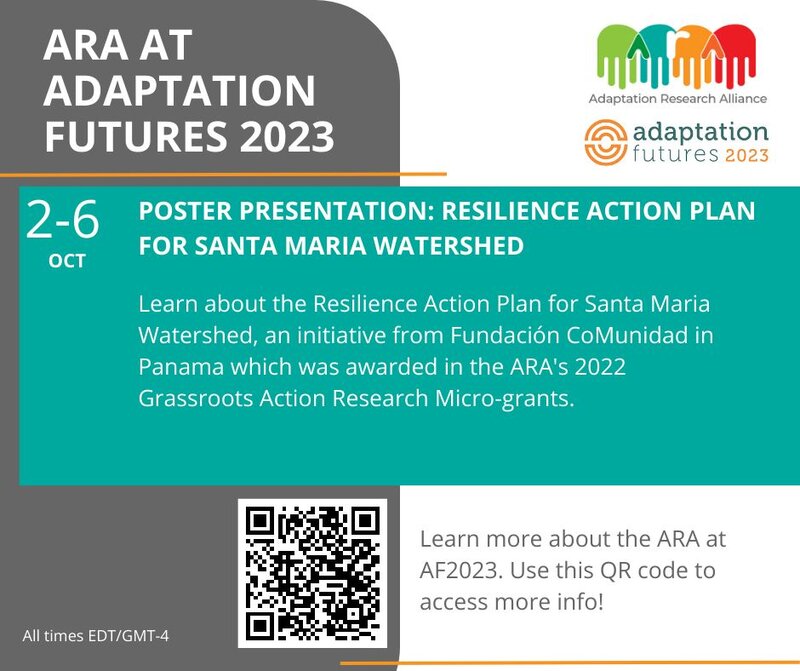 Representatives from Fundación CoMunidad, leaders of the Resilience Action Plan for Santa Maria Watershed project, will hold a poster presentation on their work at the Adaptation Futures 2023 Conference.
The Resilience Action Plan for Santa Maria Watershed was among the projects awarded by the ARA's 2022 Grassroots Action Research Micro-grants.
The initiative, based in the Santa Maria Watershed of Panama, located in the central provinces, foucuses on key hydrological resources, providing water for more than 200,000 people living in 12 cities of the three provinces Veraguas, Herrera, Coclé and a part of the Ngäbe-Buglé.
Indigenous communities depend directly on this area for multiple uses: agricultural, domestic and industrial. The Resilience Action Plan for Santa Maria Watershed aims to address the scalability of implementing management in the upper, middle and lower parts of the watershed for joint work with multisector and multistakeholder partners and with a combined multiscale.
Objectives:
Collect climatic data for the meteorological stations that are located in the Santa Maria Watershed.
Systematise experiences and practices on adaptation to climate change in family farmers of coffee, citrus and vegetables in the Upper Part of the Santa Maria Watershed.
Implement the Disaster Resilience Tool, Risk Estimation and Action Plan with the Watershed Committee.
Date: 2-6 October, Note that online access to the poster will be made available virtually from 25 September.
Time: Various times
Speakers: Alberto Pascual
Partners: Fundación CoMunidad
Location: TBC
Hybrid link: TBC
Join the ARA
Want to join our global coalition? Learn about the benefits of ARA membership and whether your entity or organisation is eligible.