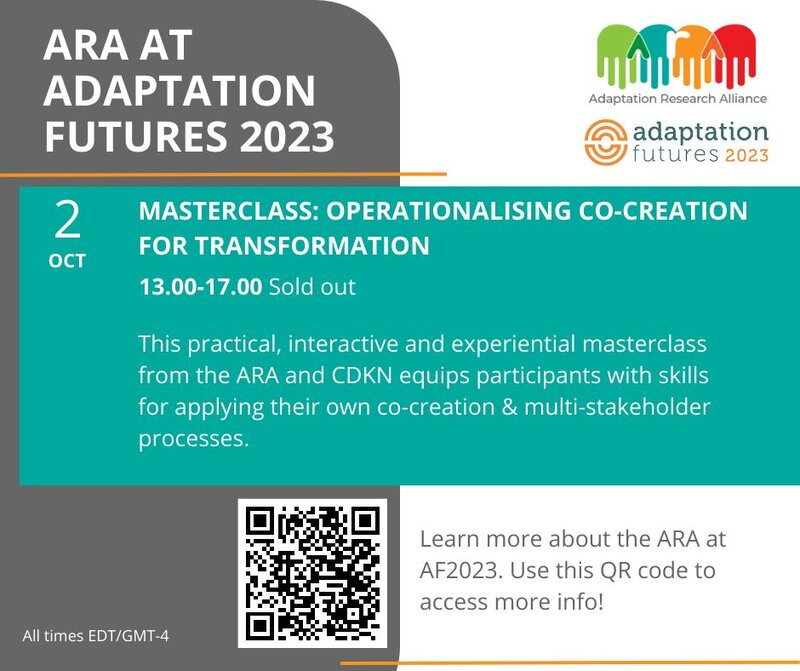 To respond to the urgent adaptation challenge, it is critical to collaborate with and work across a range of sectors and stakeholders with different values and priorities, at multiple levels, including through Co-creation processes.
Often used interchangeably, the terms co-production and co-creation are employed to cover a spectrum of activities that can go from more consultative meetings where stakeholders' opinions are sought for validating certain concepts, to full co-creation where diverse actors can take part in co-designing, co-delivering and co-evaluating interventions. 
When different knowledge types and sectors are brought together, what emerges is a collective wisdom and knowledge that cuts across disciplinary siloes. This is crucial for addressing the challenges we face.
This masterclass is being run by the Adaptation Research Alliance and the Climate and Development Knowledge Network (CDKN) and builds on their extensive knowledge and experience of working with diverse stakeholders and knowledge types globally, with a particular emphasis on the global South. The session seeks to be as practical, interactive, and experiential as possible, equipping participants with a range of tools and skills that they can apply in their own co-creation (and more generally, multi-stakeholder) processes.
Objectives
Sensitise participants about the value and benefits of engaging in co-creation, including as a means of making research more impactful, as well as the challenges that arise in such processes. Through this, understand the rationale and 'business case' for co-creation.
Explore and experience a number of tools and approaches that can be used to make the different phases of co-production (e.g., from convening participants to co-evaluating impacts) more inclusive and effective, as well as to address the different challenges that may arise.
Share concrete stories and examples of co-creation to enable the concept to become as alive and tangible as possible.
Inform the operational strategies of the Adaptation Research Alliance and the Climate and Development Knowledge Network to expand and improve co-creation processes being run by these networks.
Date: Monday 2 October
Time: 13.00-17.00 EDT/GMT-4
Partners: Climate and Development Knowledge Network (CDKN)
Closed: Sold out
Join the ARA
Want to join our global coalition? Learn about the benefits of ARA membership and whether your entity or organisation is eligible.