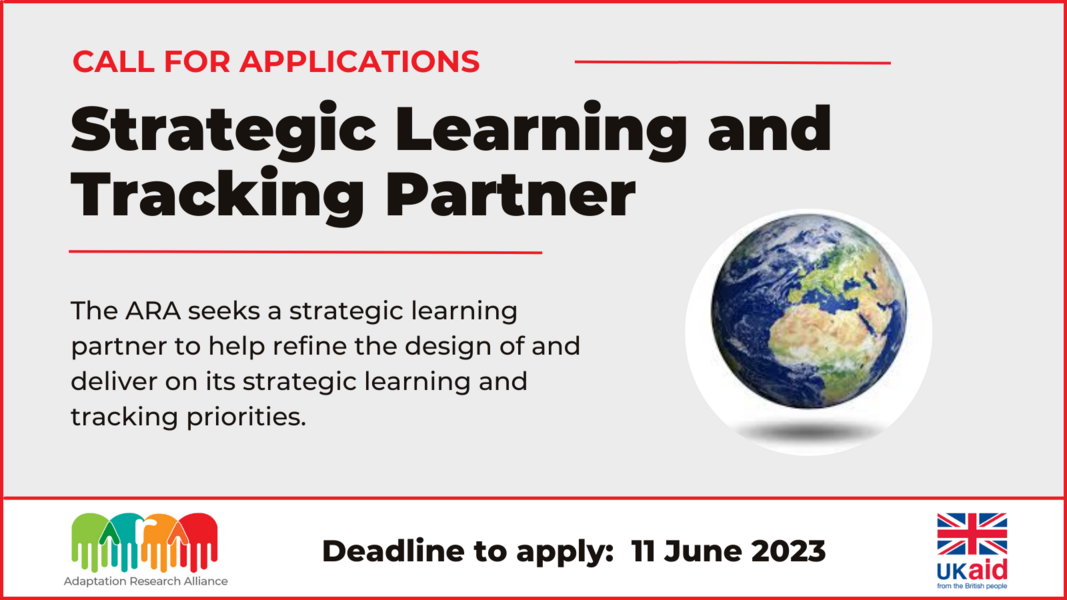 The ARA seeks a strategic learning partner to help refine the design of and deliver on its strategic learning and tracking priorities. This function forms an integral part of the ARA's distributed Secretariat, working very closely with the Programme Coordinator and reporting to the Head of Secretariat.
The role requires high-level strategic thinking and planning as well as coordination and administrative work. Therefore, the role could be delivered by a team or an individual, though a team is preferred given the scope of work.
Objectives
The ARA and its members actively learn from their respective experiences of designing, funding, conducting and using action-oriented research for adaptation and resilience.
The ARA and its members actively share learning with other stakeholders in the adaptation ecosystem, including the operationalisation of the Adaptation Research for Impact Principles in their work.
The ARA helps advance the learning agenda to ensure that adaptation actions and interventions are evidence-based and effective and policy makers and practitioners actively uptake and apply learning to improve the performance of their adaptation and resilience building initiatives.
ARA Secretariat tracks and reports the progress of the Alliance against its Theory of Change and uses tracking data to adjust and improve the approach of the Alliance and its members for conducting and using action-oriented research for adaptation and resilience.
ARA Secretariat can report progress to donors, the Steering Board, and Plenary Body using agreed monitoring and evaluation frameworks (logframe, theory of change, periodical monitoring templates, etc).
How to apply
The Supplier(s) should submit a proposal capturing all details stated in the Terms of Reference (ToR) document, available here.
Short-listed organisations will be invited to interview and to prepare a detailed presentation on their proposal in advance of the interview.
Proposals should be submitted in one PDF file, and be no longer than to 5 sides of A4 (i.e., 10 pages), any additional content provided beyond this will not be considered.
Proposals must be submitted to secretariat@adaptationresearchalliance.org no later than 11 June 2023.
Learning partners based in the Global South will be strongly favoured.
Strategic Learning and Tracking Partner
Read the full Terms of Reference for the ARA call for a strategic learning and tracking partner.