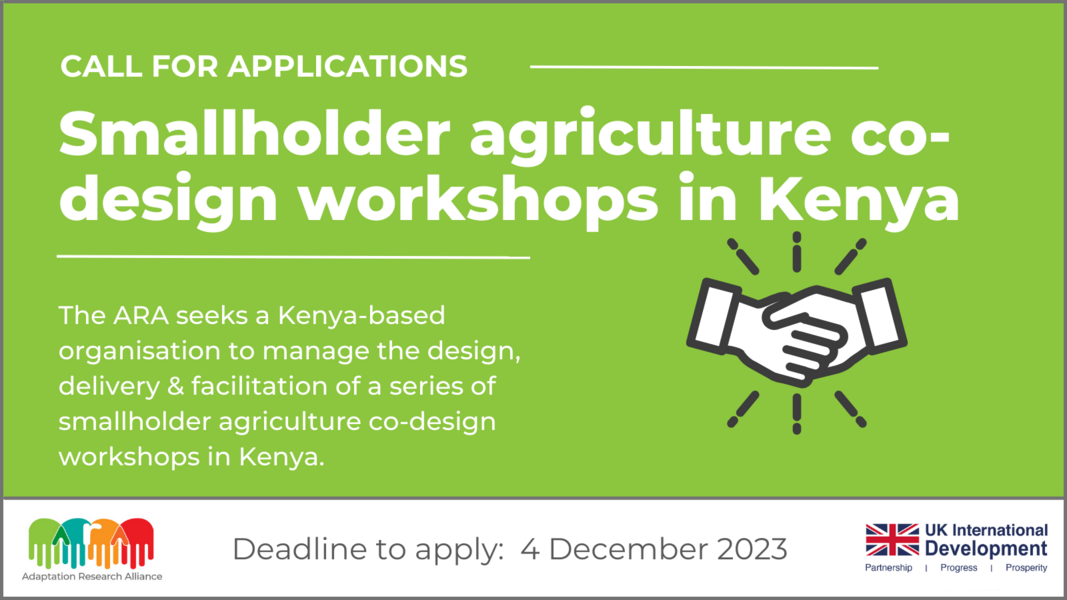 The ARA is looking for a Kenya-based organisation to manage the design, delivery and facilitation of a series of co-design workshops that bring in relevant, local knowledge and voices to inform the strategic and scientific direction of future potential action-oriented research activities on climate change adaptation.
Problem being addressed: Adaptation progress is insufficient. In many cases, adaptation technologies, products, or solutions exist, but they fail to achieve scale. In addition, many donor and research efforts aim to support Small Scale Producers (SSP) adaptation, but they often lack local ownership and a sound understanding of what is needed in the local context. Systemic changes in the agriculture research - use system is needed since adaptation is not a one-time, one-off activity. Ultimately, the agriculture research - action system needs strengthening so that there is capacity for on-going interventions to continue to adapt and build resilience to a changing climate.
An overview of a generalised co-creation process is outlined below. However, the ARA is looking for an organisation to build on this proposed process to further refine or propose activities and develop the workshops in collaboration with the ARA Secretariat and the Bill and Melinda Gates Foundation. As such, the ARA is looking for a Kenya-based organisation with good understanding of adaptation and resilience issues including the constraints and barriers to adaptation actions that has a good understanding of working in complex multi-stakeholder contexts (from government to communities), strong participatory design and facilitation skills, and familiarity with the landscape of agriculture systems and stakeholders. The organization should be comfortable working closely with an advisory group to integrate input and feedback on planning and deliverables.
Activities
Establish an advisory group made up of key members of the selected organization, the ARA Secretariat, and funder(s). Other members can be considered, or additional experts may be consulted as needed.
It is expected that the selected organisation will engage with the advisory group to refine and plan activities. Once the plan is agreed, the selected organisation is expected to prepare and deliver workshops, including facilitation and synthesis reports. Back-end logistics for the workshops will be managed by the selected organisation, while the ARA Secretariat will help identify workshop participants from its membership.
Synthesis activities will be led by the selected organisation. The selected organisation will deliver written reports presenting the outcomes and knowledge generated from the workshops. The selected organisation will also identify potential scope and research questions that emerge from the co-creation process, that could inform the new programme.
The selected organisation will be required to engage with the steering group on the location, style, focus and agenda of workshops. Making use of existing meetings and events is preferred to save on travel costs.
The supplier will work with the ARA's Tracking, Learning and Sharing (TLS) Lead to develop and implement a Monitoring, Evaluation and Learning (MEL) framework.
In order to effectively run co-creation workshops and generate appropriate knowledge, it's essential to consider and address gender dynamics to ensure inclusivity and effectiveness. Smallholder agriculture often involves women as active primary stakeholders, and recognizing and accommodating their distinct needs and perspectives can lead to more successful outcomes. A Gender Equity and Social Inclusion (GESI) plan will also be developed by the supplier.
Outputs
- Facilitation and management plan for the co-creation process in Kenya
- Workplan, including Gender Equality and Social Inclusion considerations for equitable stakeholder engagement and monitoring, evaluation and learning
- Advisory group established to provide strategic guidance across the co-creation processes
- Local workshop materials prepared (e.g., agendas, invitation lists, logistics arrangements)
- Local workshops held and reports produced, including action research priorities
- National workshop materials prepared
- National workshop held and reports produced, including action research priorities, key actors, and funding opportunities
The ARA Secretariat in conjunction with the ARA members, will support the selected organisation to identify potential stakeholders for the workshops, and will manage communications that promote participation at the events.
Alternate deliverables may be proposed by the supplier based on their proposed co-creation process.
How to apply
Please submit your application to secretariat@adaptationresearchalliance.org no later than 4 December 2023.
Smallholder agriculture co-design workshops in Kenya
Read the full details of the ARA call for a Kenya-based organisation to manage the design, delivery and facilitation of a series of co-design workshops.